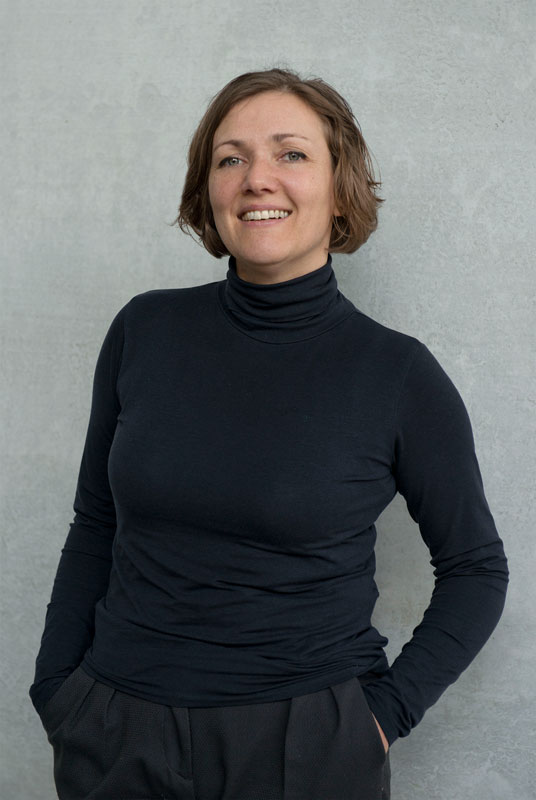 "Archi­tec­ture and build­ing cul­ture, their research and medi­ation are in a state of flux. My dis­cip­line, archi­tec­tural history and the­ory, offers an enorm­ous vari­ety of meth­ods and top­ics, build­ing on a body of know­ledge since antiquity. At the moment we see a questioning not only of this know­ledge, but also a chal­len­ging of its teach­ing by stu­dents and fac­ulty alike. Gender Par­ity, diversity and inter­dis­cip­lin­ar­ity, cli­mate change and resource con­ser­va­tion, inter­rog­a­tions of hier­arch­ies and men­tal health are ques­tions that not only stu­dents and teach­ing assist­ants are con­cerned with. I see myself as part of these inter­rog­a­tions and try to con­trib­ute to pos­it­ive change."
Research Interests
Archi­tec­ture History and The­ory 18th to 21st Cen­tury, Exhib­i­tion and Museum Stud­ies, Global Archi­tec­ture History, Methodoloy
Journal Editor
Mem­ber of the edit­or­ial board of kritische berichte, Journal for Art History and Cul­tural Stud­ies, respons­ible for the annual archi­tec­ture issue
Read more
Pro­fes­sional Biography
After pro­fes­sional activ­ity, Regine took up the study of Art History and Medi­eval and Mod­ern History at Goethe Uni­ver­sity, Frank­furt am Main, with a focus on archi­tec­ture history and monu­ment preservation. As a fel­low of DFG Gradu­ate col­loquium Psychic Ener­gies of Fine Arts and sup­por­ted by a schol­ar­ship of Evan­gel­isches Stud­i­en­werk, her PhD thesis was super­vised by Prof. Dr. Klaus Herd­ing and Prof. Dr. Chris­tian Freigang (2005–2009). There, Regine dealt with the cre­ation of emo­tions in the­ory and prac­tice of European archi­tec­ture from the 18th cen­tury up to today. The Cent­ral Institute of Art History at Munich awar­ded her PhD thesis with the Theodor Fisc­her Award.
Sub­sequently to her train­ing as a museum cur­ator at Staat­liche Kunsthalle Karlsruhe (2008–2010), Regine worked at the Archi­tec­ture Museum of TUM at Pinakothek der Moderne, Munich (2011–2015). She star­ted her teach­ing in 2009 at the Archi­tec­ture Depart­ment of Karlsruhe Institute of Tech­no­logy and has teached since at Tech­nical Uni­ver­sity of Munich (TUM), Tel Aviv Uni­ver­sity, Uni­ver­sity of Kassel and teaches now at ETH Zürich. 2016 she received a schol­ar­ship from German Research Com­munity (DFG) for her research pro­ject Cell of the Future. Build­ing Exhib­i­tions in Ger­many and was senior researcher at the Chair of Archi­tec­ture History and Cur­at­orial Prac­tice (Prof. Dr. Andres Lepik) at TUM (2016–2021). In 2018, she received the Azri­eli Archi­tec­tural Archive Fel­low­ship from Tel Aviv Museum of Art and spent sev­eral months in Israel research­ing on Post-war archi­tec­ture and land­scape design. Regine is cur­rently a habil­it­a­tion can­did­ate of the Depart­ment of Archi­tec­ture of TUM. The res­ult­ing mono­graph on build­ing exhib­i­tions will be pub­lished in 2023 (the pub­lisher is not yet determined).
Net­works
She is part of the net­work D‑A-CH: Refram­ing Nach­kriegsar­chitek­tur in Österreich – Deutsch­land – Sch­weiz. Here, the research­ers rep­res­ent sig­ni­fic­ant archi­tec­ture archives such as the Aus­trian Museum of Archi­tec­ture (Architek­turzen­trum Wien), the Archi­tec­ture Museum of TUM at Munich, the gta Archives at ETHZ and the Süd­west­deutsches Archiv für Architek­tur und Ingenieurbau at Karlsruhe (SAAI). Together with Yael All­weil (Haifa), she edited Hous­ing Regimes – New Approaches to a State-Citizen-Relation (2020). In 2021 she pub­lished the bilin­gual, peer-reviewed issue Rassismus in der Architektur/Racism in Archi­tec­ture in col­lab­or­a­tion with Monika Platzer (Vienna) and Chris­tian Fuhrmeister (Munich). The pub­lic­a­tion Staats­bau­schule München. Architek­tur, Kon­struk­tion und Ausbildungstradition was pub­lished together with Silke Langenberg and Karl R. Kegler (Munich) in Feb­ru­ary 2022, on the 200th anniversary of one of the old­est schools of archi­tec­ture in the German-speak­ing world. The art­icle volume From Con­ven­tional to Exper­i­mental – Mass Hous­ing and Pre­fab­ric­a­tion, together with Inbal Ben-Asher Gitler (Beer Sheba), Yael All­weil and Tza­frir Fain­holtz (Jer­u­s­alem) was accep­ted for pub­lic­a­tion by Leuven Uni­ver­sity Press in Novem­ber 2021 and will be pub­lished in Janu­ary 2014.
Regine has pub­lished conference pro­ceed­ings such as the bilin­gual volume Architek­tur und Akteure. Praxis und Öffent­lich­keit in der Nach­kriegs­gesell­schaft (2018). She con­trib­uted to Arch+, Kun­st­chronik, Forum Stadt, Jahr­buch der Fak­ultät für Architek­tur der TUM, Kunst und Politik.Jahrbuch der Guernica-Gesell­schaft, sehepunkte, Kun­st­geschichte online – Open Peer Reviewed Journal, Allge­meines Künst­ler­lexikon (AKL), and Jahr­buch immers­iver Medien.
Next to her con­tri­bu­tion to sev­eral major art and archi­tec­ture exhib­i­tions between 2009 and 2013, Regine has cur­ated Bauen und Zei­gen. Aus Geschichte und Geg­en­wart der Kunsthalle at Staat­liche Kunsthalle Karlsruhe in 2014 and Paul Schneider-Esleben. Architekt at Archi­tec­ture museum of TUM at Pinakothek der Moderne in 2015, accom­pan­ied by exhib­i­tion catalogues. Regine is a suc­cess­ful found-raiser, both for scientific research and for exhibitions.
Mem­ber­ship
2021 – EAHN – European Archi­tec­tural History Net­work
2019 – Ulmer Ver­ein, Verb­and für Kunst- und Kul­tur­wis­senschaften
2016 – SAH – Soci­ety of Archi­tec­tural His­tor­i­ans
2013 – Verb­and Deutscher Kun­sthis­toriker
2006 – Alumna Evan­gel­isches Stud­i­en­werk Vil­ligst
2016 – 2020 ICOM Deutsch­land – Inter­na­tional Coun­cil of Museums
2009 – 2020 Guernica-Gesell­schaft, Karlsruhe
Hon­ours
Theodor Fisc­her Award, Award for Early Career Research in the History of Archi­tec­ture from the Nine­teenth to the Twenty-first Cen­tury, 2010
Cent­ral Institute of Art History – Theodor Fisc­her Award