Build­ing ­Exhib­i­tions
in Ger­many
Build­ing exhib­i­tions like Weis­sen­hofauss­tel­lung and Kochen­hofauss­tel­lung at Stuttgart in 1927 and 1933, "Schaf­fendes Volk" at Dus­sel­dorf in 1937, and Inter­bau at West Ber­lin in 1957 have become mass events provid­ing unique ven­ues for exper­i­ment­ing with vari­ous cur­at­orial prac­tices and design strategies. With up to some 7 mil­lion vis­it­ors for example at Dus­sel­dorf, new con­struc­tion meth­ods, scientific find­ings as well as polit­ical pro­pa­ganda and con­cepts of hab­it­a­tion were afforded a broad forum for pub­lic dis­cus­sion. These build­ing exhib­i­tions have demon­strated ways of indi­vidual life­style and col­lect­ive cohab­it­a­tion under dif­fer­ent policies.
Archi­tec­tural his­tori­ography has often researched them as sep­ar­ated, and not evol­u­tion­ary, units. In focus­ing on their build­ings and in dis­reg­ard­ing hall shows, fairs, pub­lic pro­grams, con­fer­ences, luna parks and gar­dens, the research pro­ject aims to ana­lyse build­ing exhib­i­tions as an example for a mod­ern het­ero­topy. In their accom­pa­ny­ing dis­course about life and social mod­els thus lies a fer­tile area for ana­lysis of the con­tested plur­al­ism of modernity.
The pro­ject is super­vised by Andres Lepik (TUM), Diet­rich Erben (TUM) and Carsten Ruhl (Goethe-Uni­ver­sity, Frank­furt am Main)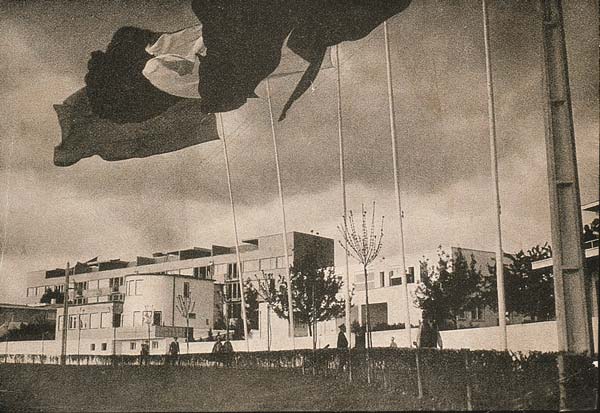 Weis­sen­hof exhib­i­tion in full flag dec­or­a­tion, Cover pho­to­graphy from Wal­ter Curt Behrendt,
Der Sieg des Neuen Baust­ils, 1927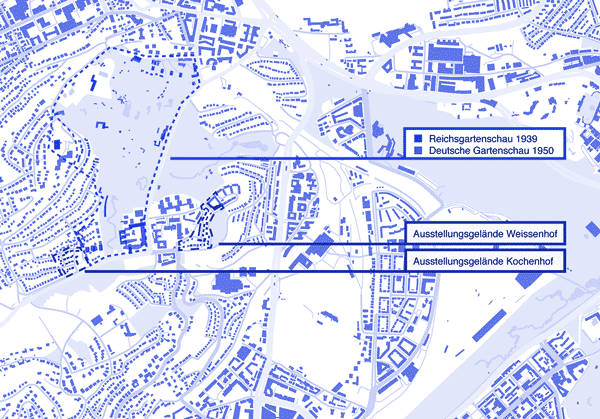 Killes­berg in Stuttgart with Weis­sen­hof and Kochen­hof exhib­i­tion, Reichs­gartenschau and Deutsche Gartenschau, Map: Max­imilian Steverd­ing © Regine Hess, Max­imilian Steverding
Refram­ing
Post­war
Archi­tecture
Deutsch­land – Österreich – Schweiz
Cold Trans­fer. Archi­tec­ture, Polit­ics, Culture
Sym­posium, 24.1. – 25.1.2020, Architek­turzen­trum Wien, Podium
Ger­many – Aus­tria – Switzer­land after 1945
Research Group Monika Platzer, Bruno Maurer, Georg Vrach­li­otis, Regine Hess, Andreas Kalpakci, Anna Minta, Den­nis Pohl, Sabine Sträuli
On the occa­sion of the exhib­i­tion Cold War and Archi­tec­ture. Con­tri­bu­tions to the Demo­crat­iz­a­tion of Aus­tria after 1945, this sym­posium makes a con­tri­bu­tion to a European History of Archi­tec­ture – a history of trans­fer, but also of con­ver­gences and diver­gences in Europe's archi­tec­ture, polit­ics and cul­ture. The efforts made by Ger­many as a 'per­pet­rator nation' to make a rad­ical break with its Nazi past as well as Austria's claim to 'vic­tim status' char­ac­ter­ized polit­ics in the post­war period. Both coun­tries' search for iden­tity after 1945 exped­ited nation build­ing – under the watch of the Allies. Switzer­land, which had remained neut­ral dur­ing the war, served as a bridge facil­it­at­ing the flow of know-how and assist­ance to the two war-dam­aged coun­tries. All three coun­tries par­ti­cip­ated to vary­ing degrees in the ideo­lo­gical con­flict of the Cold War. With its transna­tional approach, the sym­posium will shine a light – in com­par­at­ive per­spect­ive – on build­ing prac­tices and the socio-polit­ical para­met­ers of the three.
On the basis of transna­tional ques­tions, the sym­posium takes a com­par­at­ive look at the archi­tec­tural prac­tice and its socio-polit­ical frame­work of the three coun­tries. It thus con­trib­utes to a European history of architecture.
Planned Pub­lic­a­tion: Refram­ing Nach­kriegsar­chitek­tur D–A–CH.
Logistik – Medien – Aus­s­tel­lungen, Zürich: gta-Ver­lag 2023